Extech HDV640 – HD VideoScope Kit with Handset/Articulating Probe
SD memory card included to store more than 14,600 images
Video recording (up to 4 hours) with voice annotation
AV output for viewing images and video directly on a monitor
Video and images can be transferred to a PC via the SD card or USB output
Optional wireless transmitter allows you to transmit video up to 100ft (30m) from the measurement point to your monitor
The Extech HDV640 High Definition Articulating VideoScope can be used to peer into tight spots, record and playback real-time video and images. Typical applications include HVAC inspection, automotive inspection, cable routing, and automotive/boat/aircraft inspection. The monitor is designed with dual left or right handed controls for maximum flexibility.
The HDV640's 6mm diameter camera with 240° articulating tip for best viewing angle. Easy one-hand operation of the articulating camera tip facilitates viewing in obstructed areas where standard camera tips cannot access. Images and videos are viewed on the large high resolution colour display and can be stored in SD memory card (included)
High Definition Videoscope
Introducing the HDV600 Series from Extech
From the makers of the best test and measurement instruments comes a new generation of high-defi nition inspection cameras. Introducing the HDV600 videoscopes, designed for ruggedness, upgradable versatility, and high-defi nition clarity. HDV600 videoscopes feature a large color display, SD memory, LED illuminated handset probes, and glove-friendly controller handsets. Inspect more, see more, and fi nd more with the Extech HDV600 VideoScope Series.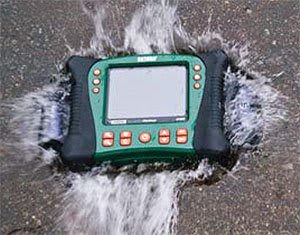 Ruggedly Reliable by Design
Extech's durable display unit is built for tough job sites, ready to handle the unexpected drop off a ladder, or torrential rains at an outdoor facility.
The HDV600 main display unit features a large 5.7″/14.5 cm LCD monitor (5.3″/13.5cm viewable) that is easy to view in bright outdoor sites, cramped and poorly lit industrial spaces, or aircraft maintenance facilities.
Waterproof display unit
Oil and chemical resistant
Drop-proof to 2 meters (6.5′)
Ergonomic, adjustable grips
Left/right hand controls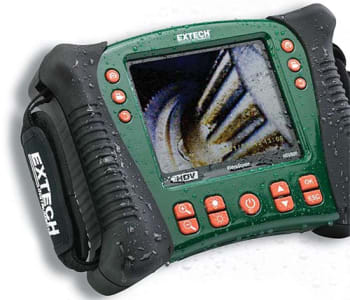 HDV600 Handset Controllers: More Convenience. More Control
Access impressive versatility with a range of options designed to ensure the right scope for the job, without sacrifi cing upgrade ability. In addition to probes which connect directly to the main display unit, handset-mounted probes make it easier than ever to inspect diffi cult-to-access areas.
Options include:
Scope probes connected to videoscope main unit
Wired handset scope probes (also available separately)
Wireless handset scope probes for inspections up to 10m away (also available separately)
Articulating handset probes (wired and wireless models available)
Semi-rigid, fl exible, and long-length scopes available
Scope lengths range from 1m to 30m
4-25mm diameter optics including macro and long focal length options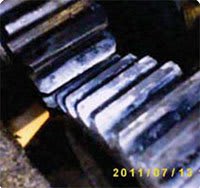 Remarkable images and Video
Capture clear images and video you can use to quickly find and document problems. Select optics that are ideal for your job requirements. Record nearly 15,000 images or up to 4 hours of video on an easy to transfer SD memory card. Plus, audio annotations can be added to video clips, helping to minimize note taking.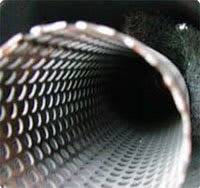 Optics for Every Application
Learn how different optical camera tips available with the HDV600 videoscopes satisfy varying job requirements. Decide if one or both is right for your job knowing the HDV600 Series offers different optics mated to a range of probes.
Macro (Short Focal Length) Lenses permit you to examine features and attributes that are up-close to the optical camera tip as illustrated above. For detail-intensive applications, such as turbine blade or boiler tube inspections, where up-close viewing is essential, select a macro tip with a diameter that is compatible with the width of access points or orifi ces available. 
Long Focus Lenses permit you to see further in confined areas. These are ideal for viewing concealed areas or large, otherwise inaccessible locations where areas needing inspection may not be immediately adjacent to the optical tip.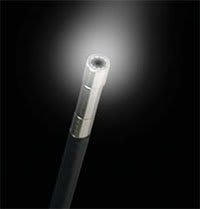 All HDV600 optical camera tips are designed with bright, integrated LED lighting, useful for illuminating dark locations or concealed components.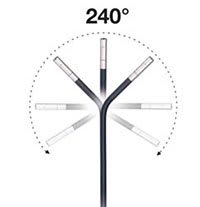 Articulated 6mm scopes dramatically expand viewing capabilities with 240° (120° left, 120° right) articulation control.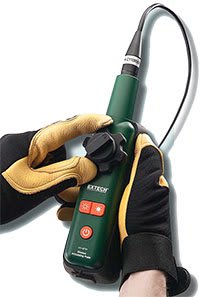 Large, glove-friendly, articulation control knob with adjustable resistance enables inspections in any environment.