SCI (Slaughter) 266 – Ground Bond Tester (60A)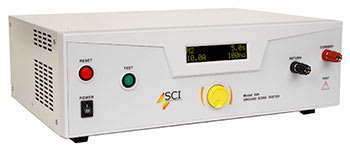 Applications include:
Appliances
Industrial equipment
Medical equipment
Laboratory equipment
Water pumps
The SCI (Slaughter) 266 is a ground bond tester with an output rating of 60A.
The 266 features an intuitive interface which allows you to set-up a test in seconds. And with practical security settings, it can easily be deployed in both laboratory and production line environments.
SCI offers two models in its 260 series of ground bond testers, providing the output current you need to satisfy NRTL specifications.
The 266 can also be customized for your specific requirements and application. Three options are available, as can be seen in the chart below. These options can also be found in the accessories section of this page.
| | | |
| --- | --- | --- |
| Description | 264 | 266 |
| Rear Outputs | ● | ● |
| USB Port | ● | ● |
| Display Voltage Drop | ● | ● |
Specifications
Input specifications
Voltage
100 – 240 VAC ± 10% Full Range
Frequency
50/60 Hz ± 5%
Fuse
12 A, 250 VAC Slow Blow
Ground Bond Test Mode
Output rating
Range: 3.0 to 60.0 AAC
Resolution: 0.1 A
Accuracy: ± (2% of setting + 0.1A)
Voltage: 12 VAC (fixed)
Output frequency
50/60 Hz user selectable
Accuracy: ± 0.1%
Resistance Limit Settings
0 – 150 mΩ for 30.1 – 60.0 A
0 – 200 mΩ for 15.1 – 30.0 A
0 – 600 mΩ for 3.0 – 15.0 A
Resolution: 1 mΩ
Accuracy: ± (2% of setting + 2 mΩ)
Offset Limit Settings
0 – 100 mΩ
Resolution: 1 mΩ
Accuracy: ± (2% of setting + 2 mΩ)
Dwell Timer
0, 0.5 – 240.0 sec, (0=continuous), 0.1 sec/step
Ramp Timer
0.1 sec, fixed
Measurement Current
0.0 – 60.0 AAC
Resolution: 0.1 A
Accuracy: ± (3% of reading + 0.1 A)
Ohmmeter
0 – 600 mΩ
Resolution: 1 mΩ
Accuracy: ± (3% of reading + 3 mΩ) for 3 – 5.9 A
± (2% of reading + 2 mΩ) for 6 – 60 A
General specifications
Standard Accessories
60 Amp High Current Lead 6 ft. (1.8m)
60 Amp High Current Return Lead 6 ft. (1.8m)
Input Power Cable USA
Fuse 12 Amp
Options available
Rear Outputs
USB Port
Display Voltage Drop
Memories
5
Remote I/O
Input: Test, Reset, Interlock
Output: -Pass, Fail, Test-in-Process
Hardware Interlock: – a relay on the high voltage output opens when the Interlock signal is disabled
Voltage Drop Display
(Optional)
Display the voltage drop across the circuit instead of the resistance measurement
Voltage Limit Settings
0.00 to 9.00 VAC
Resolution: 0.01 V
Accuracy: ± (2% of setting + 0.02 V)
Offset Limit Settings
0.00 to 6.00 VAC
Resolution: 0.01 V
Accuracy: ± (2% of setting + 0.02 V)
Security
Option to turn On or Off, when On you can switch between two security levels:
1) Run – Operator can only run a test. No ability to change memory locations or edit test parameters
2) Mem – Operator can run a test and change memory locations. No ability to edit test parameters
Safety Mark
CE/cTUVus
Dimensions
(W x H x D) (16.93 x 5.20 x 11.81)in. (430 x 132 x 300mm)
Weight
20.25 lbs (9 kg)
For detailed specifications please see: SCI 266 Data Sheet